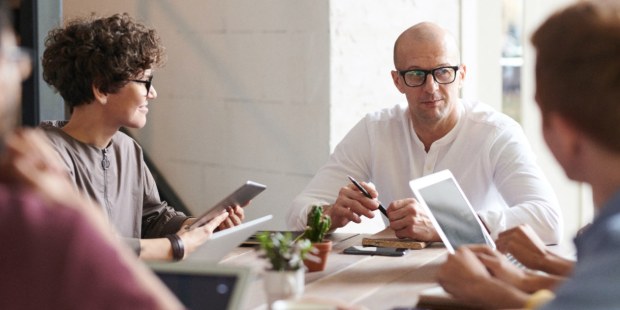 Chris Lowney – published on 05/27/21
Your ordinary words or example can become extraordinary simply because they came at the right moment.
Asmiling young man approached me after a leadership talk I had delivered, "Mr. Lowney, I'm so happy that we're finally meeting in person, and I just wanted to thank you."
My only problem? I didn't have a clue who this person was or why he was greeting me! "Well, I'm very happy to meet, but to tell you the truth, I don't know why you are thanking me."
He explained. After reading one of my books, he had left a message on my author website, seeking career advice.
I answered him. That alone had surprised him. And whatever I said must have been the right words at the right time. He had not only remembered my advice, but when I delivered a talk within driving distance of his home town a couple of years later, he made a point of attending, just to thank me.
Please understand, dear reader, that this is not a story about me dispensing brilliant life advice: I've learned by now that I have no "brilliant" advice to offer. In fact, this story is not even about me. It's about you, and about "serendipity," or perhaps, if you happen to be a religious believer, perhaps it's a story about the mystery of how God works in our world.
See, I have also been on the opposite side of those, "thank you for what you said" conversations. For example, I was once in a meeting where a work colleague advised that before we launch any new venture in life, we should ask ourselves a question, "Six months after I've started this, how will I know if I've been successful?"
Sometimes, that's an easy question to answer: I was asked to write a report; I wrote it; I succeeded. But that work colleague was referring to those more sprawling, all-encompassing ventures that sometimes come along in life or work, like starting a new job, or beginning a new relationship, or improving one's attitude.
In such cases, success is never as straightforward as "writing a report." In the early months especially, it can be really hard to imagine what "success" should even look like. But that makes it all the more important to picture a target that we're aiming for, an idea of what successful progress would entail, so that we can channel our efforts and energies accordingly.
Well, I found that insight so valuable that I included it in a book some time afterward. Then, a few years later, I ran into the former work colleague who had originally shared that insight, and I thanked him. He gave me a blank look: "I don't remember saying anything like that!"
Here's what I've learned from anecdotes like the two above: You never know what's going on in another person's life, and how your ordinary words can become extraordinary, simply because they come at the right moment in another person. Thaw was the case with that work colleague's insight, and with my career advice to that young man.
What made the big difference in my interaction with that young man was not that I chose brilliant words, but that I chose to respond to him in the first place.
You can't control what opportunities life will present you; you can only control your own reactions, in this case, through your willingness to be present in the moment, to engage with the person standing before you, and to listen to what they are saying — instead of, for example, allowing your attention to drift, distracted by thoughts of who you would prefer to be talking to, or what you would rather be doing, or what other tasks you need to accomplish.
We all imagine how much influence we might be able have at some big moment when life might present us with the perfect opportunity. But "Life is what happens to you when you're busy making other plans," as the late John Lennon once said in a song.
You never know whether it's this encounter or that one that turns out to be your chance to say just the right thing at just the right time in someone else's life. Instead of thinking about the influence you may have in the future, better to focus on the influence that you are having today, in those serendipitous encounters that happen to cross your path.
Chris Lowney is author of Heroic Leadership; follow Chris Lowney on Twitter,Facebook, and www.chrislowney.com.