MARCH 12, 2021 BY BISHOP JOHN KEENANLEAVE A COMMENT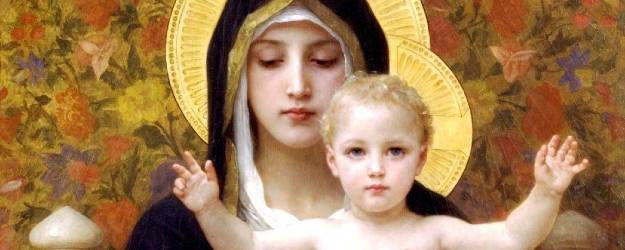 A chance stop at the Children's Rosary booth in the Conference Centre of the World Meeting of Families in Dublin 2018 brought me my first encounter with what would become my diocesan-led Child Consecration: To Jesus through Mary. After a convivial conversation with the founder of the Children's Rosary prayer group movement, Blythe Kaufman, we exchanged contact details and kept in touch. Over the next few years, I followed with great interest the spread of the Children's Rosary prayer group movement to more and more countries: over thirty four at this point. The fruits were clearly evident with children in parishes, schools and orphanages meeting to pray the Rosary as a prayer group. Children were developing a relationship with Our Lord and their Heavenly Mother, a critical step in the formation of a Catholic identity. I was also intrigued by the reports from priests that they were seeing children who had been involved with the Children's Rosary becoming leaders in their faith.
Just over a year ago, Blythe reached out to me with a request to review a new manuscript she had written. It was a Consecration called Child Consecration: To Jesus through Mary — Following in the Spirit of St. Thérèse, the Little Flower. It seemed a perfect tool to help those children who were meeting in these prayer groups to take the next step forward in their spiritual journey. Spiritual Fathers such as St. John Paul II have lauded the benefits of entrusting oneself to Jesus through Mary. There is great wisdom in placing young souls under the protection of Our Blessed Mother when they are tender. The book addresses the great benefit of early entrustment, citing numerous examples such as protection of purity, making good use of time, and introducing souls to the treasures that have eternal value, to name just a few. For my own part, I have felt the benefits of my mother's entrustment of me at just one week old to Jesus through Mary. I have felt that this early Consecration shaped my priestly vocation and now my role as bishop. In this, I see great benefit to parents entrusting their children to Jesus through Mary and also children making a Consecration journey.
To have enduring spiritual effect, the Consecration would need the substance of Saint Louis Marie de Montfort's classic way. Yet for it to be accessible to children, a new perspective would be needed. This was supplied in the spirituality of Saint Therese of Lisieux' Little Way of childlike simplicity, trust and confidence. The children's imaginations would be engaged from the outset through the story of Daisy in her Garden, guided by Mother to prepare a harvest feast for Father. The thirty-three day Consecration would blossom on the unfolding of this serene story.
Child Consecration: To Jesus through Mary — Following in the Spirit of St. Thérèse, the Little Flower
After I had expressed admiration for the completed manuscript, Blythe suggested I might lead my diocese in a Consecration to Jesus through Mary on the basis of the book. My initial impression was that a children's book would work only for little ones. Upon reflection, I could see that, although written for children, the book was just as well suited for priests and adults.
I wrote to my clergy. I was making this thirty-three day Consecration conscious, not just of my personal vocation as Shepherd of the Diocese, but also of how my brother priests shared this burden of charity with me as shepherds of their parish communities. I wrote to the Head Teachers of our Catholic schools. I hoped the Consecration would be a truly blessed journey for their school community and children, which I prayed might have wonderful benefits all through life. I wrote to our parents. Our Blessed Mother wanted to help their children, to guide them to her Son Jesus and protect them, both young and old. I wrote to all the faithful in my diocese. I wanted to invite them to join us in this Consecration journey by consecrating themselves together with me to Christ, our Good Shepherd. In this way my invitation was to everyone in my diocese: clergy and laity, teachers and children, families and individuals.
I understood many would be praying on their own in response to my invitation, but I also invited people to join me as I said the prayers and readings live on my Facebook page at nine o'clock in the evening.
We began on Saturday, January 9, in order to make our Consecration on a Marian Feast, in our case, the Memorial of Our Lady of Lourdes.
Personal Reflections on the Consecration
Starting out on this journey, I was surprised by the initial response of so many to join the Consecration journey. Then I thought many might drop out after the first few days, or surely once the prayers increased to a full Rosary each day. What I found was to the contrary. There was a great thirst in the hearts of individuals and families to draw close. They were comforted to have a shepherd lead them in prayer and showered me with messages of thanksgiving.
For myself, I found great consolation through this journey. There was a great sense of belonging both among my flock and also in Our Mother Mary and Our Lord Jesus. I felt great graces flowing not only among those participating but also within my own heart. Each day as I led the prayers, I found myself inspired to add some little story from my own childhood or early years in the priesthood, or something from the life of the saints, to complement the reading. It was not essential to the Consecration, but it flowed naturally and had the result of drawing souls even closer through the journey.
One person commented that she had never been able to complete a novena, yet never missed a night of the Consecration. Another spoke of the evenings as a "lifeline." Yet another thanked me for having led the prayers each day and said, "It's been easy to give this time every evening to God." Even those who were doing the Consecration on their own found the time went by very quickly. A deacon joining the Consecration shared that "the thirty-three days seemed like a daunting task at first, but quickly became joyful work." Indeed, due to the simplicity of the Consecration and the gentle way that prayers built upon themselves, during the days, the overarching sentiment was one of joy.
The only sorrowful sentiments were those made as the Consecration journey came to an end. So many were sad to see the evenings draw to a close. It moved my heart to see so many wanting me to continue to pray with them. So I have chosen to extend my evenings with them some weeks or even months more.
I have witnessed prayer taking root in families again. The practice of coming together before bed to pray has been ignited through this Consecration. Those joining it have spoken of us as a family. I see what has transpired as a road map for many shepherds who may want to follow on a similar path.
For myself, this Consecration was one of the loveliest experiences of my priesthood. Priesthood can be a lonely road at times and this Consecration has surrounded me with love from my flock. I would encourage priests, deacons, pastors and even bishops to help lead their flock in a Consecration to Jesus through Mary using this Child Consecration book. There is something of Heaven about this Consecration.
A New Springtime in the Devout Life
Of the many observations we can make about the Church of the third millennium, one which is less commented upon is the recent resurgence of the devotional life among the faithful. Eucharistic Adoration had already seen a return in the hearts of the faithful, often arising from young people and their new ecclesial movements. Saint John Paul II's Rosarium Virginis Mariae1 had, in the first years of the new century, rekindled a fresh confidence in the contemporary relevance of the Rosary as "a prayer of great significance, destined to bring forth a harvest of holiness."2 At the canonization of Saint Faustina, in the Jubilee Year 2000, the Pope made a prophetic claim that "the light of divine mercy . . . will illumine the way for the men and women of the third millennium"3 and, on the back of that, devotion to the Divine Mercy spread like wildfire across the Catholic world. In 2017, parishes, dioceses, and in some cases even nations marked the centenary of the apparitions of Our Lady of Fatima to the pastorinos with Consecrations to the Blessed Mother around the world.
In Evangelii Gaudium in the first year of his pontificate, Pope Francis was not slow to propose "the evangelizing power of popular piety."4 He was happy to make his own Pope Benedict's estimation of the devotional life of the people as "a precious treasure of the Catholic Church."5 Going further and forging a contemporary connection between the personal devotional life of the faithful and the missionary zeal of the Church, he argued that devotions are "a legitimate way of living the faith, a way of feeling part of the Church and a manner of being missionaries"6 because "[j]ourneying together to shrines and taking part in other manifestations of popular piety, also by taking one's children or inviting others, is in itself an evangelizing gesture."7 So to his conclusion: "let us not stifle or presume to control this missionary power!"8 The Pope was thinking of "the steadfast faith of those mothers tending their sick children who, though perhaps barely familiar with the articles of the Creed, cling to a Rosary; or of all the hope poured into a candle lighted in a humble home with a prayer for help from Mary, or in the gaze of tender love directed to Christ crucified."9 In something of a chastisement to certain post-Conciliar tendencies, and reopening the door to a vibrant devotional life among the faithful, the Pope judged that "[n]o one who loves God's holy people will view these actions as the expression of a purely human search for the divine"10 when they are in fact "the manifestation of a theological life nourished by the working of the Holy Spirit who has been poured into our hearts" (cf. Rom 5:5).11
The Pope seemed to be referring to the need for some rebalancing of quite understandably overzealous approaches to some key spiritual insights of the Council that got themselves inveigled in what Pope Benedict called a "hermeneutic of rupture."12 In layman's terms, it created a sort of "out with the old, in with the new" approach in which commentators could hold, in disregard of the "old" Church, "that was then, this is now."
So, while the Council reaffirmed "Christ, the source of all truth, sanctity and piety" 13 and exhorted theologians and preachers of the Divine Word "to abstain zealously . . . from all gross exaggerations . . . in considering the singular dignity of the Mother of God"14; some took this as a green light to put aside all devotion to Our Lady and the saints in order to center everything exclusively on Jesus; not least since the Council had also warned against "whatever, either by word or deed, could lead separated brethren or any other into error regarding the true doctrine of the Church.'"15
Similarly in the Liturgy, the Council had taught that "every liturgical celebration, because it is an action of Christ the priest and of His Body which is the Church, is a sacred action surpassing all others; [and that] no other action of the Church can equal its efficacy by the same title and to the same degree."16 It was natural, if somewhat reductive, to draw the conclusion that there was little need for devotions where the superior Liturgy was at hand.
This was, of course, to miss the nuanced approach which Pope Benedict wanted to re-establish for the Church going forward. "The Church, both before and after the Council, was and is the same Church, one, holy, Catholic and apostolic, journeying on through time."17
In the end, Pope Benedict was optimistic about a mature reintegration of the "treasures old and new" in the Church's sense of communion and mission post-Vatican II. "[T]oday we can look with gratitude at the Second Vatican Council: if we interpret and implement it guided by a right hermeneutic, it can be and can become increasingly powerful for the ever necessary renewal of the Church."18
What Benedict predicted, together with what Pope Saint John Paul II and Pope Francis encouraged, seems now upon us in the devotional life of the Church in the third millennium. The improbable alliance of traditional piety with new evangelization has seen the devotional life of the Church flourish in a way unseen in the past generations. Particularly the new evangelization, new in online methods, has allowed devotions as well as Mass to get back into our family homes via cell-phones and tablets and positively reignite our domestic Church.
For my part as a shepherd, I have experienced a springtime with my flock through this lovely Consecration journey I had the good fortune to lead. It is my humble invitation to other shepherds to take up this humble instrument of Child Consecration and make a personal Consecration and invite your flock to join you. You will not regret it!
For more information, visit childconsecration.com.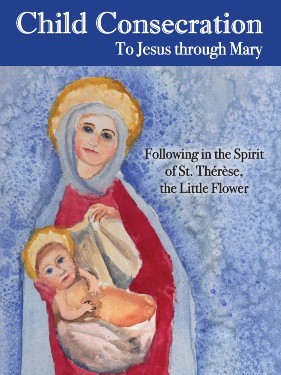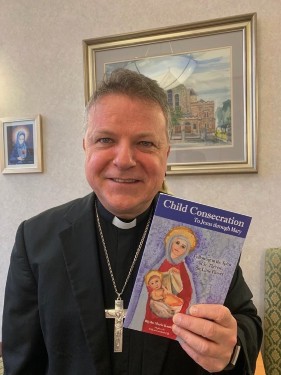 FILED UNDER: ARTICLES TAGGED WITH: COMMUNAL PRAYER, CONSECRATION TO JESUS THROUGH MARY, DEVOTION TO MARY, MARY, PASTORAL CARE, ST. LOUIS DE MONTFORT, ST. THERESE OF LISIEUX

About Bishop John Keenan
Bishop John was born on December 19, 1964, in Glasgow. He was educated at the Salesian College, Shrigley Park, Cheshire; University of Glasgow 1984-1988 (LL.B); Gregorian University, Rome 1988-1995 (S.T.B., PH.L).
Having studied at the Pontifical Scots College, Rome, he was ordained a priest on July 9, 1995 in St. Gregory's, Wyndford by Cardinal Thomas Winning, archbishop of Glasgow. He was an assistant priest in Christ the King, Kings Park from 1995–2000 and chaplain at Holyrood High School, Glasgow from 1997–2000. He was a lecturer in philosophy at Scotus College, Glasgow from 1995–2005. He was appointed as chaplain to the university of Glasgow from 2000–2014 and parish priest of St. Patrick's, Anderston from 2013–2014. He was appointed as vocations director of the Archdiocese of Glasgow 2013–2014.
He was nominated as bishop of Paisley by Pope Francis on February 8, 2014, and was ordained as the fifth bishop of Paisley on March 19, 2014 by Archbishop Philip Tartaglia, the archbishop of Glasgow and his predecessor in Paisley.