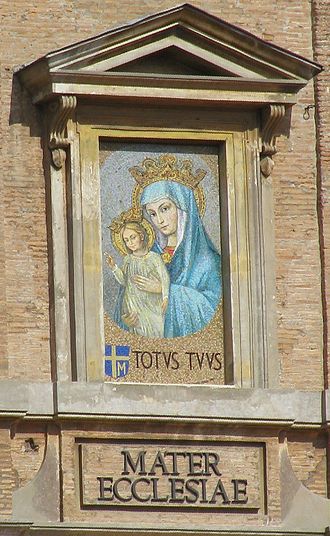 It was the day after Pentecost, and Mary was sorting through her thoughts.  What a day it had been!  She, the other women who had befriended Jesus, and the disciples had been praying for the coming of the Holy Spirit ever since Jesus had disappeared into the sky.  The others had been asking her, "What exactly are we praying for?"  She knew, but the Spirit had not given her words to tell them, so she had said little.
But, oh, my!  There was a great wind—in the room with them.  And such an energy.  It was like the air was alive!  Then tongues of fire came out of the wind and touched them.  They were tongues of fire, but they did not burn, they did not hurt.  Instead, she watched as people exploded with the sweet joy that she knew was the Spirit's touch. There wasn't even chaos, but everyone got up.  They went as one body out of the room. It was like the wind carried them into the streets.  Every one of them had been so filled with joy that people even thought they were all drunk.  They weren't drunk, but they weren't normal either.  They were babbling, speaking in strange languages, which, amazingly, people understood.
Peter stood up and spoke like he had never spoken before.  These were clear thoughts and strong emotions, spoken with conviction and a certain power.  He told the story of her son–his life, death, and resurrection.  He told it well!  So many people who had been on the edges of Jesus' teaching had shaken their heads "Yes!" to what Peter said.  They were moved.  Tears flowed.  They answered Peter's call for repentance and baptism.  Yes, Jesus would be very pleased with Peter yesterday!
But then, Mary grew pensive.  She was back in her habit of "pondering in her heart" this morning.  Her sense was that yesterday everything changed for her.  For one thing, instead of 120 or so people to "mother," now there were 3000 more.  Mary knew many of them.  A good number were women—some coming into the group of disciples with their husbands.  Others came as widows.  "Yes," Mary thought, "I need to pay special attention to them. Most of them have no means or little means of support."  Mary smiled.  "Well, I guess I will be mother to them…and continue to be mother to those disciples and…."
A New Feast
This inner dialogue is imaginary, but the role of the Blessed Virgin as "mother" is very real.  Pope Francis promulgated a new feast in honor of Mary in 2018, Mary, Mother of the Church.  It is always to be on the Monday after Pentecost—today.  It's a new feast, but with an old title. St Ambrose of Milan seems to be the first person to use it—in the fourth century.
We know Mary to be the Mother of God.  We know her to be our mother—a mother to each and all of us.  But perhaps it is good to think a bit about Mary, Mother of the Church.
Part of the title comes from the fact that Mary is listed in Acts as being in the upper room when the Holy Spirit came on Pentecost.  And Pentecost is considered the birthday of the church.  She, Mother of Jesus, Mother of God, was present for the church's birth, too.
I have spent the Easter season reading a short section of Lumen Gentium (Dogmatic Constitution on the Church) each morning.  Paragraphs 52-68 of this core document of Vatican Council II summarize church teaching about Mary beautifully.  If you want to know exactly what official church teaching about Mary is, use this resource.
Here is a small part of what it says:
The Virgin Mary, who at the message of the angel received the Word of God in her heart and in her body and gave Life to the world, is acknowledged and honored as being truly the Mother of God and of the redeemer.  Redeemed, in a more exalted fashion, by reason of the merits of her Son and united to him by a close and indissoluble tie, she is endowed with her high office and dignity of the Mother of the Son of God, and therefore she is also the beloved daughter of the Father and the temple of the Holy Spirit.  Because of this gift of sublime grace she far surpasses all creatures, both in heaven and on earth.  But, being of the race of Adam, she is at the same time also united to all those who are to be save; indeed, "she is clearly the mother of the members of Christ…since she has by her charity joined in bringing about the birth of believers in the Church, who are members of its head." (Lumen Gentium, paragraph 53)
Today's Gospel
We can think about church teaching in Lumen Gentium and we can picture today's Gospel.
Standing by the cross of Jesus were his mother and his mother's sister, Mary the wife of Clopas, and Mary Magdalene. When Jesus saw his mother and the disciple there whom he loved he said to his mother, "Woman, behold your son."  Then he said to the disciple, "Behold, your mother."  And from that hour the disciple took her into his home."
Jesus wasn't just arranging for someone he trusted to look after the needs of his mother, who would have no means of income or support with her only child crucified.  Jesus was doing that—but he was also doing much more:
Jesus was giving Mary the task of mothering the disciples, mothering the church—and mothering us.
On May 1, Archbishop Gomez reconsecrated the United States to Mary's care under the title, "Mary, Mother of the Church."  In this action, he joined bishops in many countries and Pope Francis in turning over our world to Mary's love and protection during this pandemic time.  Here is one of the prayers of that ceremony–a good prayer for us today.
Prayer:
Accept with the benevolence of a Mother the act of consecration that we make today with confidence, and help us to be your Son's instruments for the healing and salvation of our country and the world.
Mary, Mother of the Church, you are enthroned as queen at your Son's right hand: we ask your intercession for the needs of our country, that every desire for good may be blessed and strengthened, that faith may be revived and nourished, hope sustained and enlightened, charity awakened and animated; guide us, we pray, along the path of holiness. Mary our Mother, bring everyone under your protection and entrust everyone to your beloved Son, Jesus Christ our Lord.